Embedding customer centricity
We are in the age of the customer. Customer expectations, choice and power have never been higher. Brands and organisations must meet these expectations consistently, or risk losing them. However, meeting these expectations and delivering relevant, seamless, and personalised experiences is proving more difficult than ever.

"Delivering exceptional experiences that exceed expectations."
Customers now have a vast array of channels to interact with organisations and are taking complex, non-linear journeys to achieve their goals. Legacy operating models and technologies are struggling to cope with these more advanced customer journeys and expectations.
At Oaklin we recognise the importance of centering around the customer, by placing the user at the heart of experience and service design. We utilise our end-to-end Service Design approach to shift the perspective from the product to the whole ecosystem, designing holistic services and experiences that exceed customer expectations and keep customers coming back.
Our approach
The Empathise, Envision and Experiment stages feature rapid iteration, with hypotheses being formed, tested and proved or disproved in order to define the overall solution blueprint and target areas to deliver this change.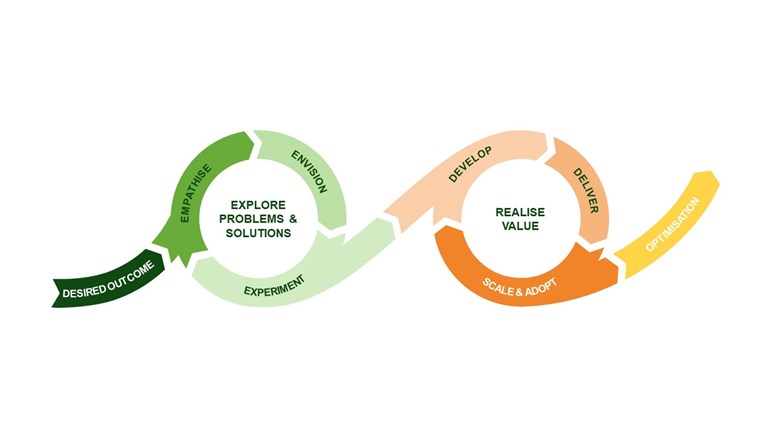 The Develop, Deliver and Scale & Adopt stages may occur separately for each area of the new service. They operate with a defined target for delivery and seek to use feedback from users in a live environment to drive agile delivery of the new service components. Activities here seek to deliver working solutions to users in the form of MVPs (Minimum Viable Products).
Who is Service Design for
We expect Service Design to be attractive to innovative leaders who are looking to
Better connect with and understand their customers
Uncover opportunities for innovation
Rapidly investigate problems and build holistic solutions across the organisation
Define a clear vision for the future and build the confidence of how to get there
Ensure smooth, seamless, and consistent user journey, improving experience or conversion rates
Reach new audiences or markets or explore new revenue streams
Our offerings
Click to find out how we can help you
Innovation & Problem Solving
User Research
Competitor Analysis
Design Thinking
Innovation Sessions and "Strategy Hacks"
Business Cases & Roadmaps
Experience Design
Customer experience strategy
Customer persona definition
Customer journey mapping
Wireframing & rapid prototyping
UX and UI design
Launch new product or service
Business strategy (product-market-fit)
Wireframing & rapid prototyping
UX and UI design
Build rapidly, test often, learn always
Product Management

"Service Design helps organisations in centring around the customer, recognising that people don't interact with organisations in single moments, but within complex journeys of multi-channel touchpoints."

Mark Croucher, specialist in Service Design
Mark Croucher
Consultant
Mark is a Digital Transformation Consultant with strong experience delivering technology change across a wide variety of industry sectors. He has experience across the full project life-cycle, including digital strategy, product design, agile methodology definition and digital delivery. Mark enjoys helping clients make the most of the latest digital technologies and has a keen interesting in driving customer experience. He has an open and collaborative style of working and thrives on driving sustainable business results through new technologies.
Mark is currently supporting an Automotive startup to define their portfolio of customer-facing digital initiatives. Recently, he was the Lead Digital Business Analyst for a large-scale customer experience transformation programme; he scoped, mobilised and led the delivery of a cloud-based document management platform at a "Big Six" UK energy supplier; and worked with a major UK bank to lead teams of business analysts in a global supplier assurance programme.
"The best part of the Digital Capability at Oaklin is that it keeps you on your toes and up-to-date with the latest digital trends. We meet regularly, with everyone bringing an advancement in digital technologies they have seen as a potential topic for discussion"
An end-to-end service design approach for the automotive sector
Oaklin embedded a team to lead the design and development of a disruptive, direct-to-consumer, digital retail model.
The team utilised our end-to-end service design approach to develop a future state service blueprint for the sales journey of the new 4x4. This allowed the team to develop a prioritised roadmap of capability and functionality to be delivered, based on business value, and design the business required to orchestrate the desired sales journey. 
The team was then trusted to support throughout the lifecycle of the programme, providing both Product Owner and Programme Management expertise to support successful programme mobilisation and operating model definition and ensure product & CX excellence.
Oaklin's efforts resulted in a successful launch, and on-time delivery of "Reservation Day" which surpassed internal sales targets. Oaklin's support has continued through to order book opening and are next target customer deliveries.